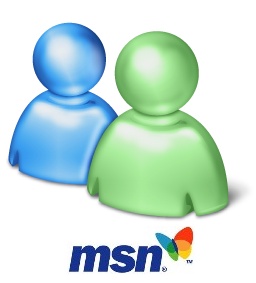 All of a sudden, in the late 1990s you just couldn't ignore it. The BBC were referencing it. Rock stars were complaining and issuing law suits about it. The internet had arrived. So when my rich Aunty Molly died in '99, and left me £1000, I went out and bought a PC, hooked it up to the phone line, and waited for 3 hours until it connected. The future had arrived, albeit a bit clunky.
In these Pre-google times the only search engine then was MSN. So if you were on their site, you saw MSN Chat rooms. I took the bait and went for it. It wasn't long before my then girlfriend was lost to me sitting in front of the glowing box at 3am chatting to troubled and lonely people in Anaheim and Argentina.
I started to make regular friends too. And not always of the platonic kind. There were (and still are) a million things you could do in a chat room that don't involve any bodily contact, threat of STDs, and if it got (too) weird, you just hit 'block'. I can't honestly say I'm proud of this, but hey, I'm apparently what they call an Early Adopter, and I was feeling fruity.
Lots of other things were happening in my life, my hotel career was burgeoning and a move was in the offing. I behaved like a well-seasoned jackass and ended my then 6 year relationship without so much as an explanation one day, and then carried on chatting in this twilight netherworld. Back then it was still a very small world, a private pleasure that wasn't shared openly with people. The chat rooms were definitely spoken of in hushed terms, and then seen as seedy. The general consensus wasn't completely off the mark either. Then, as now, you got to know the oddballs very quickly, learned the lingo, and built up a block list that would fill a library shelf.
Eventually I got chatting to woman in Northern Ireland who seemed to just uncannily 'get' me and my then late 20-something issues. We chatted and chatted, it was very exciting, almost verboten. One of the things about online chatting of course, was that you could be told you were chatting to a tall dark raven-haired 22 year old art beauty, and art school student and fan of MC Escher, but it actually turned out to be cross-dressing Alan with a 42 inch waist from Droitwich. So we also exchanged pictures. Back then Bluetooth and pressing share on a smartphone was merely a glint in Steve Jobs eye, so we had to scan and email. But things went well that department too so we eventually (probably within a few weeks actually) exchanged phone numbers and spoke. I was incredibly nervous, even though we had shared loads of personal stuff in the chat rooms already. But we hit it off. We talked at 3am. We texted. Then we started telling friends how we had met. There was a lot of silences, and disapproving head movements. This of course made it all the more attractive, and added to the fact that it was someone from Belfast, who was also 15 years my senior, it was irresistible. There's definitely something about the unknown that makes meeting and chatting to people online all the fun.
The flights were booked for late July in 2001. I jumped on a train with a bag and a pocket full of dreams. To coin a phrase.
As I came down the escalator at Belfast Int'l Airport I was terrified. My impressions were met. Almost. So I went with it. We chatted really well in the car, took a trip to Dublin. I came for 4 days, and ended up staying for 2 weeks. I fell in love with Belfast. From this I visited week after week, moving over to live with her in March 2002.
The MSN dream came to a rather unpleasant and bitter end on new years day 2007, with a difficult discussion and a realization I had (I cant & wont, speak for her, that's not fair) been living something of a lie for a long time.
Perhaps it was never going to work, perhaps all that 'real' stuff we chatted about online when we first met was just the fulfilment of our individual fantasies, instead of reality. And as we know, the twain rarely meet. I don't like the person I became, but that isn't MSN's fault. Whatever methods we use to meet people, we are still responsible for our own behaviour.
Online meeting now is commonplace, and a media staple, but still, I think it's no less exciting, or possibly unsuccessful, or even dangerous. After all, those dating sites don't match human beings, merely algorithms. I still used online chat rooms/sites after 2007 for a short period, but never with much success.
So on the upside, if it wasn't for MSN, I wouldn't have moved to Belfast, met my (now) beautiful wife in 2007 (face to face, in very romantic circumstances!), and had two beautiful daughters. So, a happy ending after all, then.